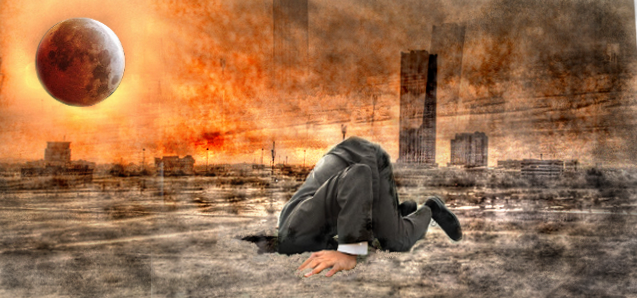 Recently I read an article in Charisma by a famous revivalist, whom I respect, which contained the following comments on Eschatology:
"This study of last things is also important to revival. I believe we are going to see a turning from a doom-and-gloom view of the end times, in which we expect the church to be lukewarm, to an end-times view of hope, purpose, victory and great revival." (Emphasis Mine)
It's not unusual, of course, to hear the world speak of End-Time teaching as a doom and gloom message, but it is startling to hear today's "Charismatic" and Revival Movement leaders concur. But the mere thought of the soon return of Christ being a "doom and gloom" message makes my blood boil. Are you serious? How is it possible that today's Christian leaders, could promote a version of the End-Times where there is no judgment or calamity coming to the earth but only hope and joy and victory and that without the return of Christ. After nearly forty years of being a Christian leader, I could never have imagined such a thing. Yet, it seems that the world itself has more understanding of the end of the age than these "apostolic" revival preachers as is evidenced by the many end-time movies coming out. Another "inspiring" article from the same source suggests that "speculation about the end is a distraction from what is really important and a major hindrance to revival." This is astonishing! There is actually something more important than the return of Christ? Really? Are these leaders seriously suggesting that Christians are better off hoping for a "Great American Awakening" than being distracted longing for His appearing? Though it pains me to accept it that is exactly what they are saying.
Gloomy Fatalism
If you have recovered from the shock of the above conclusion then you are ready for the next question. Where is this thinking coming from and why is it being adopted by the mainstream Charismatic and Revival Movement leaders? Furthermore, is this thinking Biblical or even compatible with genuine revival? I wish I could say the answer is deep and mysterious and needing substantial thought and consideration. This would make me feel at least like there was some justification for it. However, the opposite is true. The idea that awareness of the signs of the end and the soon return of Christ is some sort of "gloomy fatalism" is profoundly out of step with the New Testament. Rather than the hope of a Christianized world and a transformed culture the Apostles of our Lord admonished the church to fix their hope completely on the return of Christ (1Pet 1:13). Consider the following verses that make this abundantly clear:
"For our citizenship is in heaven, from which also we eagerly wait for a Savior, the Lord Jesus Christ…" Phil 3:20 NASV
"For we through the Spirit, by faith, are waiting for the hope of righteousness." Gal 5:5 NASV
"…so Christ also, having been offered once to bear the sins of many, shall appear a second time for salvation without reference to sin, to those who eagerly await Him." Heb 9:28 NASV
"And not only this, but also we ourselves, having the first fruits of the Spirit, even we ourselves groan within ourselves, waiting eagerly for our adoption as sons, the redemption of our body. For in hope we have been saved, but hope that is seen is not hope; for who hopes for what he already sees? But if we hope for what we do not see, with perseverance we wait eagerly for it."Rom 8:23-25 NASV
"Let us hold fast the confession of our hope without wavering, for He who promised is faithful; and let us consider how to stimulate one another to love and good deeds, not forsaking our own assembling together, as is the habit of some, but encouraging one another; and all the more, as you see the day drawing near." Heb 10:23-25 NASV
The clear teaching of the above verses is that we are to be longing for and eagerly awaiting the return of Christ as our primary hope and preoccupation. Yet, these leaders trash this expectancy and want us to place our hope instead on some great revival or awakening. But where do they find this hope in Scripture and who gave them the authority to offer an alternative to that of Jesus and His apostles? The Lord Himself warned us of the tribulation at the end of the age which would wipe out mankind had it not been cut short. Yet, they suggest that such preaching is "gloomy fatalism." Surely they are not suggesting that Christ Himself was a gloomy fatalist or that His teaching was "negative." Maybe not! But they can't have it both ways. Jesus had much to say about the darkness and distress coming at the end of the age and questioned whether or not He would find true Christianity on the earth when He came (Luke 18:8 Lit. "The Faith"). But now we are told this version of events is much too "doom and gloom" and a more sanitized version has been adopted that is hopeful, optimistic and of course politically correct. Jesus clearly warned us to be aware of the signs that we are in the last generation and the book of Hebrews tells us that we can see the day approaching (Heb 10:25). They however, mock these signs as Peter said they would (2Pet 3:3-4) and marginalize and vilify those who believe that this generation has come. "Here we go again," they exclaim, "More false predictions, and starry-eyed doom and gloom prophets." They point to the false predictions of some Bible Prophecy teachers which, most of us never believed or sanctioned, as proof of their skepticism and hide behind the mantra that "nobody knows the day or the hour," and thus nobody cares. But what about their predictions of great "Global Revival" and "Great Awakening?" Where is it and when is it coming? What about all their visions and words concerning "Taking Back America" and every town and village from the North Pole to Antarctica? Is this the message upon which we should place our hope? What about all the godly presidents they predicted from Bill Clinton to Sarah Palin? Do these false predictions discredit their message? On the contrary, they seem to be invigorated by them as though their cause, their quest for global awakening and revival was a sure promise from God's word – a plan of God for the end of the age that cannot be thwarted. However no such promise is given to the nations of the earth in Scripture. We are told clearly that darkness will cover the earth and that the wheat and tares will grow together until the harvest. The church was commissioned by Christ to preach the gospel to the nations for a witness and then the end would come.  He didn't say "and then worldwide revival will come." Furthermore, the very proclamation of the gospel throughout the world for the last two thousand years is one of the sure signs the end has come. Where then is this hope of some global awakening or world transformation that we are being told to be excited about rather than the return of Christ?
What is Revival?
The subject of revival dominates the church today and yet there is much confusion as to what it is and what it should be. However, revival throughout the centuries can be simply defined as the refreshing and awakening of believers by the presence and power of the Holy Spirit. These refreshings and awakenings brought renewed love for Christ and His word and almost always a restoration of Biblical truth and a passion for the preaching of the gospel. As a result towns, cities and nations were affected in a positive way. And though the church has continued to be restored through revivals over the last five hundred years, the effects of revival on culture and even many in the church, has rarely lasted more than one generation. Indeed, the greatest darkness in the world today seems to be resident in places where the greatest revivals took place. And if the Holy Spirit had not been so gracious in pouring out upon generation after generation of believers, it is safe to say that the church would not exist at all. In fact, although the church has been experiencing revival worldwide for the last twenty years or so, there continues to be a great falling away even among those who have been revived. History repeats itself as many who were impacted by the power of the Holy Spirit have now begun to proliferate doctrines of demons. Thus, as Solomon once said, there is nothing new under the sun. Since these things are so, how is it that so many in the church today are putting all their hope on some end-time revival which will bring humanity into the golden age? When they speak of revival it is clear they are not talking only about Christians being refreshed or filled with the Holy Spirit, but about some sort of societal and global transformation that will take place under the leadership of the church. They know in their hearts that the rank and file Christian community cannot accept that scenario, so they couch their unbiblical theology in the terminology of revival and awakening and caring for the poor and needy. But what they really believe about End-Time prophecy, namely; that the prophecies contained in the Book of Daniel, Matthew 24, and the Book of Revelation were all fulfilled in the First Century, are only known to those who read between the lines. Isn't it time for those who reject this teaching to stand up and call it what it is – deception? Isn't it time for magazines such as Charisma to reveal the theology behind these articles and stop confusing a generation of unsuspecting Christians who would never accept these conclusions if they knew what they were based on?
A Sure Hope is Not Fatalism
If you are persevering to the end of this article then you may be thinking that I am one of those anti-revival Christians. However, this is not the case. I am old enough to have personally experienced two of the great revivals of the Twentieth Century and happy to say I embraced both. I have also studied the history of revival in the church and from those studies and my own experience I can say that true revival always generates an anticipation and longing for Christ's return and a fresh understanding of the prophetic End-Time Scriptures. That is why this idea that we should be longing for revival and putting Jesus return on the cold, less important back burner, is contradictory and more indicative of lukewarmness than revival. Likewise as John the apostle taught us, longing for Christ's return also produces in us the fruit of genuine revival.
"Beloved, now we are children of God, and it has not appeared as yet what we shall be. We know that, when He appears, we shall be like Him, because we shall see Him just as He is. And everyone who has this hope fixed on Him purifies himself, just as He is pure."1John 3:2-3 NASV
Since the Scriptures teach us that those who live in revival long for the coming of Christ and those who have this hope produce the fruit of revival, how can revival preachers who are living at the end of the age mock the signs of Christ soon return which are far more sure and certain than their claims of world awakening? How can they be so antagonistic of those who are longing for His appearing and wanting the church to know it is near? Since anticipation of Christ's soon return is a fruit of revival, the obvious attitude of the early church, and something that produces godliness in believers, why do they find it so offensive? Could it be that they are really not eager for His return? Could it be that they have more faith in the church and it's ministries than they do in the Lord Himself? After nearly forty years of commitment to Christ and the church I can honestly say that only the return of Christ gives me hope. I love the church, and so should you, but it would be real doom and gloom for me to believe that the church is the hope of the nations and that our future was dependent upon a great national or worldwide revival. As the apostle Peter, who saw and experienced the glory of the Lord in person, stated so clearly long ago, "We have the more sure prophetic word (alternate) to which you do well to pay attention as to a light shining in a dark place" (2Pet 1:19). The world is indeed a dark place and since all the Biblical signs tell us we are at the end of the age we can be certain it is about to get much darker. How much more then should we hold onto the prophetic word that is shining and pointing us to the soon return of Christ! This is the true living hope of the church that will take us through these dark times and help us to fulfill His destiny for us! Perhaps the ones who want to replace this hope with something earthly and inferior and dim the light of this lamp are the real ones preaching "gloomy fatalism?"
Social tagging:
awakening
>
Charisma Magazine
>
charismatic
>
coming of Jesus
>
doom
>
End Times
>
fatalism
>
gloom
>
hope
>
prophetic word
>
renewal
>
revival
>
the second coming